What Is A Food Warmer?
Food warmers are not quite as popular as other appliances related to food but they are essential for certain companies. Food warmers do exactly what it says is that it cooks food and holds it at the right temperature for serving. While most people do not know the exact meaning of what a food warmer is, they have surely encountered them numerous times. Every restaurant that serves a buffet will have food warmers to keep food hot for longer durations. Nearly every pizza place will feature a multi-level food-warming tray to showcase their pizza slices and to keep them warm and crispy.
The Buffet Server
The first kind of warmer that is one that many have seen before and is perhaps the most well-known is the buffet server. These rectangular trays serve to store food items that the guests are served. They are generally made of stainless steel with lids that are included. The buffet server could get confused with the Chafing dish however, they are not identical. The buffet server is heated electrically while the chafing dish uses an external source of fuel, which produces a flame. One of the advantages of having a buffet server instead of one that is chafing is the possibility of controlling the temperature of food. Perhaps, you do not desire your mashed potatoes to be at the identical temperature as the vegetables, for an example. Buffet servers are an essential element for any buffet or catering event.
The Warming Tray
A warming tray is a different kind of food warmer, which is increasing in popularity in homes across the country. The warming tray allows you to set your food on the tray and then heat your food items to the temperature you want. This provides you with more flexibility than the buffet server, where you would have to use the pans supplied. This tray for warming food is now being introduced to homes across the country. Anyone or family member who is often hosting guests at home will appreciate that food warmer tray is a great feature in their kitchen. They are not found in many restaurants, as they tend to be limited in terms of size. They typically come with controls for heating adjustment as well as handles that are heat-proof for carrying.
Heat Lamps
Instead of using heat to warm your food containers, use heat lamps to can warm your food with infrared radiation. They are another major stay in the restaurant industry. The large heat lamps are typically placed above the self-serve areas in most restaurants. They generate a great deal of heat and are ideal to keep a lot of food warm for a long time. They are not going to be seen in homes due to the obvious reason They are industrial equipment. There are also smaller lamps for heating small food items such as apple pie French fries or other baking products. Smaller heating lamps tend to be freestanding and do not require an installation over the ceiling.
Eliminate Food Safety Issues With A Commercial Food Warmer
If we consider the challenges that face the food industry in the present, we are provided with several common examples. For instance, a business dealing with food handling should pay attention to the food product they offer. It is vital that they monitor the quality, and most importantly the temperature of food items. Anytime, be aware that you don't want to infect anyone with the food you offer. It could damage your company's reputation and never have the chance to recover it. Naturally, you should be on the lookout for these items, which you already know.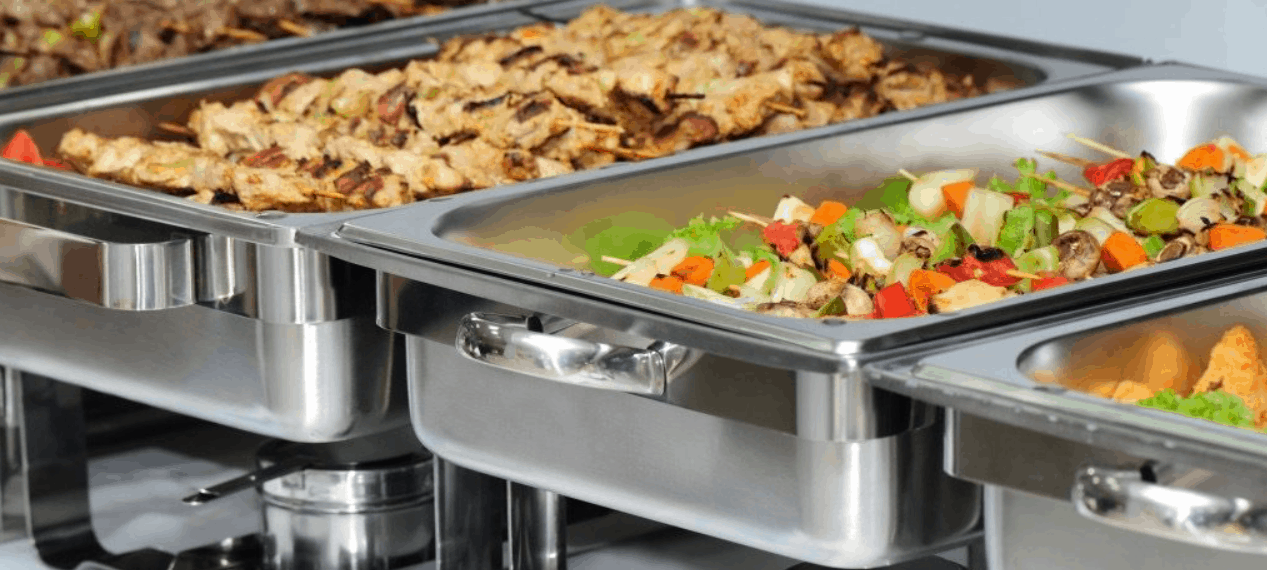 Additionally choose an appliance that can effectively keep food items at a particular temperature. This should be among your primary goals because selecting the best commercial food warmer will ensure you will have no issues. So, the question could be asked about what makes an excellent commercial-grade food warming device. In our main aspect, which we have discussed in the previous paragraph, you must look for an appliance that can maintain the temperature at a constant level. It is probably too general since there are many other aspects to keep the temperature constant.
Commercial Food Warming Business
What clients need in a commercial food warming business is stability. Consider the conditions we place these machines within. It is an extremely risky system when individuals are flying around trying to accomplish their tasks. Maybe the employees are too busy to pay attention to the direction they are traveling. If the machine is not constructed to last. You could end up needing to repair it. In addition, this is an area where technology could help in the situation.
Numerous companies are investing funds for research and development to make sure their machines are designed to stand up to the tough conditions. Additionally, they are aware that as this is the food industry, things could be spilled, or food may be deposited in the machines. This is why they have developed their machine to make it durable enough to withstand the strain and not rust. As a customer, there is an issue with the efficiency of commercial food warmers. Therefore, some specifications must be a part of the conversation.
Many machines cannot keep a steady temperature. As we have said before, this is a risk for your company since an unreliable temperature could lead to food safety issues. Why do certain machines have the capacity to maintain an even temperature? In the first place, the machine must stick to a certain consistency. If the machine is not sturdy enough or thin, it will lose heat and become unproductive. It is therefore essential that they are designed correctly, paying close careful attention to the areas where heat may escape.
Functioning Of The Equipment
Another of the most crucial issues is the functioning that the equipment performs. As we all know, commercial food warmers will be staffed with people who are shutting and opening the doors at all times. Each time the machine is at risk of dropping in temperatures (even in the lower range of food safety standards). Another important consideration is having a machine can handle the conditions it's in, without having to be concerned about the number of times you have to open and shut it!
With these ideas with you, consider the advantages of a quality commercial warmer for food. A durable and well-constructed one can hold food items for a longer time. In this regard, you might be interested in a model with wheels if you are operating a mobile establishment such as a catering company. Additionally, a well-studied and researched technology may make it more convenient for you to manage your business. If machines can hold the food you need for long periods, and is durable, there should be no concerns.
Characteristics Of A Good Restaurant Food Warmer Manufacturer
When it comes to refrigerators for food warmers at restaurants, some aspects are particularly important to take into consideration when choosing the right manufacturer to purchase from.
Capacity Of The Enclosure
The first is the size of an enclosure's capacity is vital. What number of customers can you accommodate and how many can you get food at the exact temperature at which it is intended to be served? If a kitchen warming cabinet has a layout that makes use of every square inch, it will be optimal to offer the highest capacity to footprint ratio. You will want a warming cabinet that works to your advantage and is not in opposition to you. If you can keep more food items in the cabinet while maintaining the same temperature of holding this would make a huge difference in your ability to serve your customers.
Consistent Food Temperature
The other service that a restaurant's manufacturer of food warmers must provide in the food warmers they sell is a consistent temperature of food. The technology used in an enclosure for food warming should be able to maintain a consistent and precise temperature. Additionally, there should be no temperature variations across the entire enclosure from the bottom to highest-all places within the enclosure need to be of identical temperatures.
If the equipment is defective in technology, for instance, poor implementation or inadequate temperature regulation, then it can be a liability to you. The primary objective for the same temperature for food is security. If, for instance, you serve the meat of your choice and you need to keep internal temperatures at about 165 degrees F that is, then you'll need to select a cabinet that can take care of maintaining this temperature constantly, regardless of the cabinet. It is important to ensure that the food you serve complies with the standards for food safety throughout the day. This is a critical aspect that a food warmer in a restaurant manufacturer should meet.
The final aspect that the food warmer manufacturers of restaurants must provide is flexibility. Can the cabinet accept pans that are of a particular dimension or type of material? Alternatively, could it be utilized in a variety of designs and packaging? Does it have the capacity to provide an individual holding environment for every item inside the warming cabinet or does it offer a standard solution? The food warmer that provides the individuality of each food item that is stored in the cabinet is likely to outperform those that do not.
The last thing to consider is user-friendliness. Are the warmers able to work and maintain the proper temperature levels without doors or posing a burn risk for your employees? If they have doors, do they have a low-swinging profile to maximize the space in your kitchen? The controls that operate the equipment must be simple and easy for both employees and you to operate and quickly adjust. These four elements are what you need to look for in a manufacturer of restaurant food warmers as well as their warming cabinet.
Should you purchase a device that will warm your food? It is likely that you already know how to answer this. If you are the owner of a restaurant or in the field of foodservice is obvious that you will require an appliance for warming, whether it is serving buffets or a heater lamp. The answer is not so easy for homeowners. If you do not have guests often, then there is probably no requirement for food warmer. However, an essential tool can dramatically enhance your guests' dining experience. After the day, like everything else you will have to choose whether to purchase a warmer according to your specific requirements.